LOCATION:


The Universal campus is situated at Bhairahawa in Nepal. It is very close to the Indian City of Gorakhpur in Uttar Pradesh, at only about 96 kms from campus. The location is just 2 kms from Sounauli the last destination of the Indian Border and it takes hardly 1 ½ hrs journey by car from Gorakhpur, by road.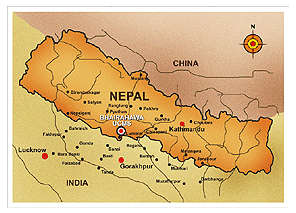 The Universal College of Medical Sciences conducts the MBBS & BDS courses at Lumbini, the Lord's own Land, where Gautam Buddha was born. Lumbini is geographically located in the Therai region that comprises of plain lands and the climate is comparable to that of the North Indian states of Uttar Pradesh and New Delhi.
During summer, the temperature could reach upto 40 C and in winter it falls to a minimum of 10 C. Adequate arrangements were made in the College and Hostels to reckon with the climate conditions, including provision of air-cooled and heated hostel rooms.