http://www.hust.edu.cn/
LOCATION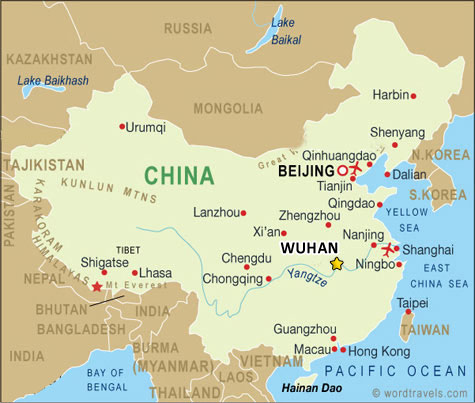 HUAZHONG UNIVERSITY OF SCIENCE AND TECHNOLOGY(HUST) is located in Wuhan, it is the capital of Hubei Province and is the most populous city in central china. As a city of central China, Wuhan is located at the eastern Jianghan Plain, and borders Tuanfeng County and Ezhou City under Huanggang City to the east, Jiayu County and Xianning urban area under Xianning City to the south, Honghu City, Xiantao City and Hanchuan City under Jinzhou City to the west, and Xiaogan City to the north.
Wuhan is known as "the nine province's leading thoroughfare"
It is a major transportation hub with dozens of railways, roads and expressways passing through the city. It is recognized as the political, economic, financial, cultural, educational and transportation centre of central China.
About Wuhan
Wuhan, the capital city of Hubei Province in central China, is situated on Jianghan Plain, a river-crossed fertile land created by the Hanjiang River joining the Yangtze River. This is a routine port for a Yangtze River cruise. Divided by the Yangtze, the city is known as the 'Three Towns of Wuhan' with Hankou and Hanyang on the west bank, and Wuchang on the east.

Wuhan has seven bridges and one tunnel across the Yangtze River. The Wuhan Yangtze River Bridge, also called the First Bridge, was built over the Yangtze River (Chang Jiang) in 1957, carrying the railroad directly across the river between Snake Hill (on the left in the picture below) and Turtle Hill. Before this bridge was built it could take up to an entire day to barge railcars across. Including its approaches, it is 5,511 feet (1,680 m) long, and it accommodates both a double-track railway on a lower deck and a four lane roadway above. It was built with the assistance of advisers from the Soviet Union.
Wuhan is the place to find both history and natural wonders. Hubei Provincial Museum and Yellow Crane Tower are two places to appreciate ancient Chinese history and culture. In the museum, chimes excavated from tombs reveal the incredible achievements of ancient people in music, acoustics and metallurgy.