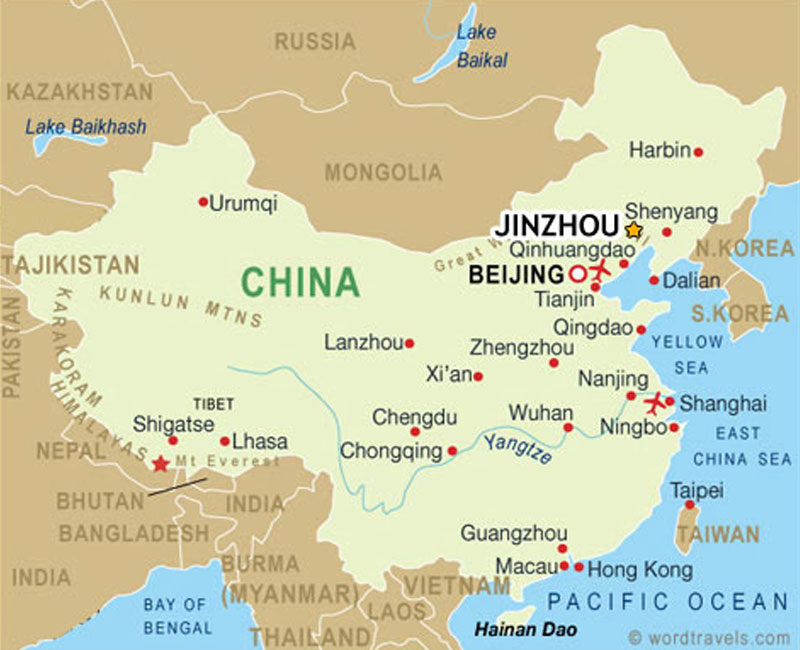 Jinzhou is the central city of west part of Liaoning Province along the Bohai Bay, located in the northeast China. It only takes a drive of 4 and a half hour to reach Beijing.
Jinzhou is an ancient town with a thousand-year history. Green mountains and blue water add more glamour to this beautiful city. The natural scenery and valuable historic heritage make Jinzhou a hot tourist city of Liaoning Province.
It has a geographically advantageous location with a coast-line of some 100 kilometers. Jinzhou Harbor is China's first open trade port in the northeast part. It is a flourishing commercial city and modern international port. It is the communication hub linking the northeast and north China.Jinzhou comprises of 5 universities and colleges, 22 scientific research institutes with 100 thousand professional staffs, which ranked the third place in Liaoning Province. China's first female riot police force was set up by the Public Security Bureau in Jinzhou city in 2003.
About Jinzhou City
Jinzhou is a city in Liaoning Province, which is one of the 3 provinces that makes up `Dongbei` or the north-east region of China. There are 3,000,000 people living in Jinzhou prefecture. 770,000 of them live in urban areas, but there are several smaller towns around Jinzhoucity proper. Jinzhou is about five hours east of Beijing by train. It is another 5 hours or so to Dalian, a fast-developing city, also called the `Hong Kong of the north`. Shenyang, the provincial capital, is a little more than 2 hours away. Shanhaiguan, where the Great Wall of China meets the sea, is about an hour and a half to the west. Jinzhou City lies half an hour away from the seaside and Bijiashan (an island dotted with temples in the Bohai Gulf that can be reached on foot, once the tide pulls away). Apart from Bijiashan, Jiznhou doesn`t have that many tourist attractions, which makes it a place where real Chinese culture still exists and it is often referred to by many expats living here as `the real China`.

Jinzhou Medical University is one of the higher provincial schools in the western part of Liaoning Province. In 2006, with the approval of the State Council of China, the former name Jinzhou Medical University was changed after the name of the province as Jinzhou Medical University. Approved by the Academic Degrees Committee under the State Council, JMU became a university in 1999. Since 2003, this university has been qualified to grant Master's degree to clinical medical graduate students.
The campus covers 1,140,000 square meters and lies in the north of the city. Six kinds of education are offered in JMU: general high education, state-owned privately run education, adult education, vocational education, online education and international students` education. The university enrolls undergraduate, graduate and master as well as postgraduate students.
There are 16 teaching departments, 98 teaching offices, 56 teaching laboratories, 4 affiliated comprehensive hospitals and 169 bases for teaching and practice. The university`s curriculum comprises 21 specialized undergraduate subjects, 32 master degree programs and 1 doctor degree program. Among the faculty members there are 823 full-time teachers, 74 of whom have been granted a doctoral degree, 533 associate professors and 219 professors and chief doctors. The university`s library has an advanced electronic reading room and has access to the retrieval system for medical documents from the American MEDLINE and the Chinese Medical Institute.
The university has set up 17 secondary level teaching units and 10 research centers. There are 14 branches of learning, which can grant master degrees, 35 specialized undergraduate subjects and three key subjects of provincial level. The capacity of students is about 15000. Presently, there are 219 Professors or Chief Doctors, 533 Associated Professors, 74 with Doctor Degree, 315 with master degree etc. Most of the faculty for the undergraduate course consists of National and International Professors trained from USA, UK, Canada and Belgium.
Hundreds of teachers and researchers, have won the honor of 'Excellent Teacher and talented person with great abilities for science and technology' by national government and local government, for their outstanding achievements. English as the medium of instruction for foreign students has started since the year 2004. All classrooms are equipped with multimedia to facilitate easier and visual teaching methodologies.
Clinical Base
There are 4 comprehensive hospitals and 169 teaching and practice bases, comprising nearly about 7000 beds. The affiliated hospitals are attached to the university and within the campus region. The clinical base for students pursuing Masters is sound. The graduate students are trained in General Hospital of People's Armed Police in Beijing, Hospital 301 in Beijing, General Hospital of Aerospace in Beijing and General Hospital of Shenyang Military Command.
The university comprises twelve teaching departments, ten provincial research centers, seven affiliated comprehensive hospitals and one hundred and twenty-two outlets for teaching and practice. The curriculum comprises twenty-three specialized undergraduate subjects, thirty-two second level master degree programs, two first level master degree programs and one doctorate degree program. There are three provincial key subjects, one provincial key laboratory and five provincial key medical specialties. The number of graduate students is approximately eight hundred whilst undergraduate students total about seven thousand.
The First Clinical School (The First Affiliated Hospital)
The first affiliated hospital of Liaoning Medical University in western Liaoning Province is the largest Hospital of Grade III set by the Ministry of Health. It is also one of the three regional medical centers. It provides 1800 beds for half a million patients from Liaoning, Jilin, Hubel and Inner Mongolia, more than 30000 patients receive medical hospitalized care and more than 10000 patients are treated by operation. There are 45 clinical medical departments, 4 research institutes and 25 teaching sections.
The Third Clinical School ( The Third Affiliated Hospital)
The Third Affiliated Hospital of Liaoning Medical University was set up in 1922, and is one of the earliest hospitals of Grade III by the Ministry of Health as well as "baby-loving hospitals". A number of excellent medical workers with medical doctoral and master's degree, awards of government. Some of them are candidates of provincial-level talents, tutors of postgraduates, famous teachers set by the province, leaders of technology and academics in Jinzhou. The hospital provides advanced medical equipment, such as 64 row CT, magnetic resonance 1.5 T, DSA angiogram machine, linear accelerator, digital operation rooms. Wards, cleaning centers and medical supply rooms are National level. Emergency rooms, ICU wards and CCU wards physical examination center and injection center are the most advanced in Jinzhou. It is a comprehensive hospital of medical service, teaching, research, prevention and health care. It is a large-scale hospital under the department of health in Liaoning Province.
Medicine Tissue Engineering Laboratory
It is an excellent good platform for tissue engineering. Its main researches include bone and cartilage tissue engineering research, central and peripheral nervous system injury regeneration research and vascular endothelial cell differentiation and capillary reconstruction study.
Brain and Spinal Cord Injury Laboratory
It focuses on cerebrovascular diseases, neurological diseases, brain tumors and researches spinal cord injuries. It has reached the leading national standard in the corresponding fields of research.
Animal Products Quality and Safety Engineering Laboratory
With modem basic science research results and interdisciplinary basis, it is aimed at solving technological issues in animal products quality and safety. It also provides technical support for the old Liaoning Industrial Areas and its agricultural and animal husbandry quality for ensuring food safety.
Surgery Key Laboratory
It has the basic equipment and conditions for life science on the molecular and cellular level. It main activities are bone and cartilage tissue engineering research, tumor transfer and proliferation mechanism and angiogenesis theory.
The university's library has an advanced electronic reading room and has access to the retrieval system for medical documents from the American MEDLINE and the Chinese Medical Institute. At the same time, the university library provides a convenient studying environment for overseas students.
Students can borrow books at the reception desks on the respective floors. Books on natural science are to be found on the second floor of the library building, whereas books on Social Science are located on the fourth floor. You can use the computers next to the reception desks to find the book you want to borrow.
On the fifth floor of the library there is a periodical reading room, where you can read periodicals which are not allowed to be carried out of the library. On the third floor of the library there is an electronic reading room which is completely computerized and digitized. It contains millions of journals in Chinese and foreign languages.
There are departmental stores, restaurants, post office, telephone booths, theatres, sports centers, gymnasiums and play grounds for all types of sports within the university campus. The Library in the campus is a modern construction having electronic audio-visual components and the internet facility. Huge volume of reference books, magazines and medical journals are made available besides text books in English medium.
Restaurants
In addition to the university canteens and the public kitchen where students can cook for themselves, the university also has two restaurants. Both of them are based in the same building. One of them is an upscale Chinese restaurant, but inexpensive. The other one is a fast-food restaurant that offers Chinese, Western food and Indian food. It depends on what you want to eat, but on average it costs 20 RMB a day to have two decent meals. Some western restaurants have also found their way into Jinzhou, including KFC and some real restaurants, most of which offer pizzas, pastas, western-style steaks and so on.
Dormitories
The Hostels are situated inside the Campus, well equipped and furnished, and separated for boys and girls. Adequate security is provided to international students' hostels. There are two dormitory buildings with a total of 141 rooms for foreign students. In each room t here is a small entry corridor with two closets and the door to the bathroom. The room itself is about 150 square feet. Each room is equipped with beds, a wardrobe, a desk and chair, a sidetable, a television (with reception of all Chinese channels and satellite). Each room has at least one large window. In addition, central heat is provided by a radiator in the winter, and the rooms have individually controlled air-conditioners for the summer heat. Moreover every room has internet connection. The bathroom is comfortable. It is about 25 square feet. The toilet is western style. There is a water heater mounted on the wall that connects by hose to a shower head. There is a sink and mirror. Apart from the rooms in the dormitory there is also a public kitchen with cooking utilities and refrigerators and a place where the students can have their meals.
Sports Facilities
The campus offers a range of sport facilities. All over campus one can find basketball courts, volleyball courts, table tennis tables and there is also one football field. One of the buildings on campus houses a gym, which has a large selection of weight machines, dumbells, plates, benches and a smith rack. There are no cardio machines, but aerobics classes are held twice daily. A membership card costs 25 RMB a month. Once a year the university holds a huge sports meeting in which Chinese as well as international students can compete against eachother.
Jinzhou has ties with overseas institutions, such as Toronto University, Laval University and New Fenland University in Canada, Saga University and Gunba University in Japan.
The number of student studying at the university totals 13,806 with approximately 140 being International students, all of whom are currently studying in the undergraduate program which is taught in the English language.
The university began to enroll overseas students in 1997 and since then the overseas student education programme has rapidly developed. The College of International Culture Exchangewas founded in the beginning of 2004. The college has enrolled overseas students from South Korea, Indian, Nepal and South Africa. In 2007 the College of International Culture Exchange changed its name to the "College of International Education" which comprises Administration, Teaching Affairs andthe Centre for Teaching Chinese as a Second Language. Furthermore, the university is actively involved in international academic exchange programs with overseas universities such as the University of Glasgow in Scotland and regularly exchanges scholars and specialists to give lectures. To date over 100 teachers have been sent to more than 20 overseas countries to study and participate in select research programmes. Some of the overseas universities and colleges cooperating with JMU in research work and scholarly exchange are University of Victoria (Australia), Ulste University (Britain), Konyang University (Korea), Laval University (Canada), Bashkortostan National Medical University (Russia).
Postgraduate education in LMU started in 1979. Master degree Student in 12 specialties were trained through the join program with China Medical University. Approved by the Academic Degree Committee under the State Council, LMU began to confer Master's degree in 1983. In 1999, LMU began to confer Master's degree to those who have qualifications equal to postgraduates. Since 2003, LMU has been qualified to grant master's degree to students of the clinical medicine subjects. Approved by the Ministry of Education, LMU is qualified to confer Master's degree to students of the Clinical Stomatology subject.
LMU possesses Five joint doctoral degree subject, two first-class master degree subjects, and 32 second-class master degree subjects. There are 7 doctoral supervisors and around 392 master's supervisors. The number of postgraduate students has amounted to about 1700. Moreover, there are 500 trainees in the postgraduate education. Now we have 6 training bases for postgraduate students. Beijing Military Police General Hospital, Aeronautics Center Hospital, the Second General Hospital of PLA Artillery, the General Hospital of PLA Shenyang Military Region, the General Hospital of PLA Jinan Military Region, and Shenyang 202 Hospital.
In recent years, LMU has strengthened the communication with overseas institutions, such as Toronto University, Laval University and New fenland University in Canada, Saga University and Gunba University in Japan. The Master Programs offer continuing profession education for students who hold a Bachelor Degree in Medicine and who want to specialize in certain field.